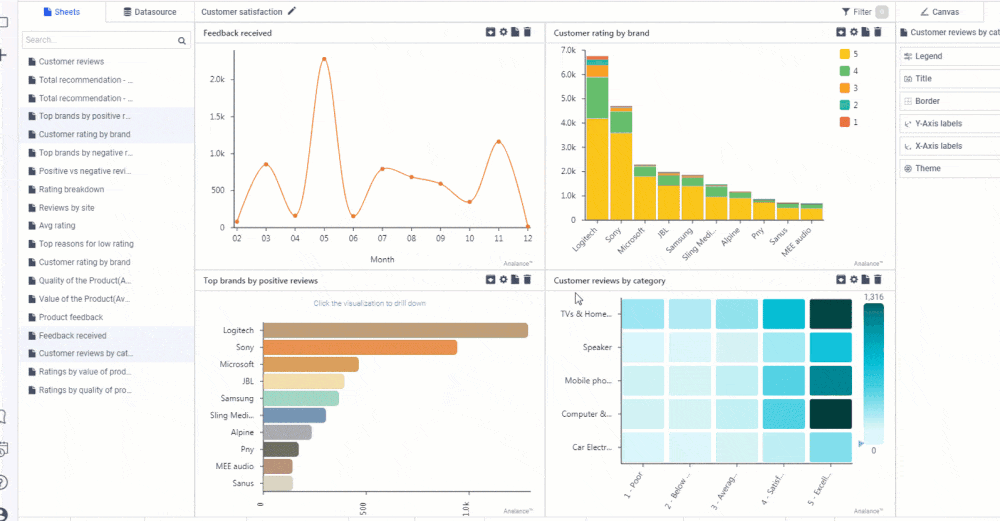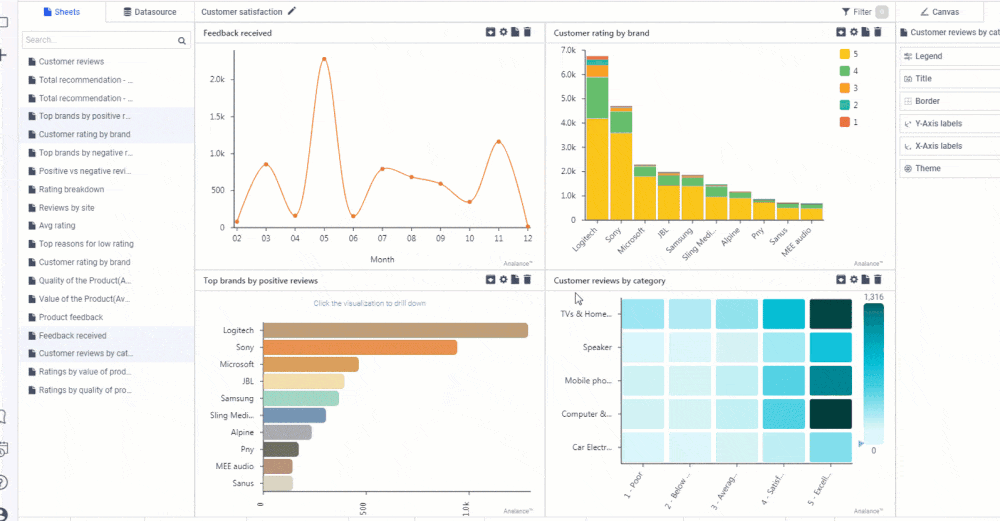 Why choose Analance for Business Intelligence?
In order to stay competitive in any industry, it's essential to have quick and easy access to insights. Enable seamless data discovery across the organization with a powerful self-serve analytics platform and collaboration tool that is easy to deploy and maintain.
Whether you are the platform administrator, designer, or domain expert, Analance's business intelligence capability empowers users across the organization to take control of data, find answers to critical questions, and make faster decisions for better business outcomes.

Connect with 20+ Data Sources
Solve business problems by establishing a live or in-memory connection with data from 20+ available connectors to relational databases, big data sources, API sources, files, cubes, and social media. Connect and unify multiple data sources before your analysis even begins.
Don't find the data connector that you need? Let us know and we'll add it to the pipeline!

See Data in action with 40+ Visuals
Bring dashboards to life with intuitive and expressive visualizations—including over 40+ charts and maps—that help drive and support thought processes. You can also create your own visualizations. Preview ones and zeros in beautiful visuals and colors as you drag and drop values into the y-axis and x-axis. Use smart analytical models to find hidden insights and relationships in data.

Build Interactive Dashboards
Build smart customized reports and dashboards by simply pinning up worksheets. Share critical insights easily across the organization, eliminating reporting silos. Customize reports based on user preferences and get creative and experimental about presenting data. View workbooks in configurable slideshows rather than screenshots.
Build your own BI Dashboard and tell better stories
Need some inspiration?
Explore dashboards created with Analance.
A self-serve tool to ease Data Access, Discovery, and Governance
With guided workflows, step wizards, and intuitive business validation messages, Analance enables non-technical users to create interactive dashboards on the fly—no IT support necessary. Reporting is made easier, more intuitive, and more interactive.

Intuitive data mapping
Database administrators and business users can easily create logical query models and share them with appropriate users across the organization.

Customized reports
Easily change or manipulate advanced options as needed. Refine reports with features like standard aggregation and calculations, data filters, parameter prompts, grouping, and sorting.

Fast query response
Quickly and simply respond to a query from a large data set with an extremely powerful query processing engine and a lightweight, AJAX-enabled UI.

Exports in multiple formats
Save and export reports in different formats (PNG, PDF, GIF, PPT, XLS, CSV, etc.) and share them across the organization. Encourage collaboration by scheduling and distributing reports in any format.

Easy collaboration
Share reports and analysis with other business users, to specific channels, or across the organization—with set preferences for access. Easily share comments and schedule report generation and distribution.

Customized GUI
Change the appearance of reports to match unique business requirements using an intuitive, point-and-click display. Save preferences and activities like change/move, filters, and KPIs for future reference.
Want to learn more?
Connect with our rep to learn how Analance can empower your team with accurate and reliable customer insights.