WHAT MAKES ANALANCE YOUR

#1 CHOICE

FOR DATA SCIENCE?
CREATE YOUR FREE 30-DAY TRIAL ACCOUNT
GET INSTANT ACCESS TO ANALANCE NOW!
Master the Platform in Minutes
Cues and intuitive workflows guide users through a step-by-step data analysis process to ensure both novice business users and data scientists can get started in minutes.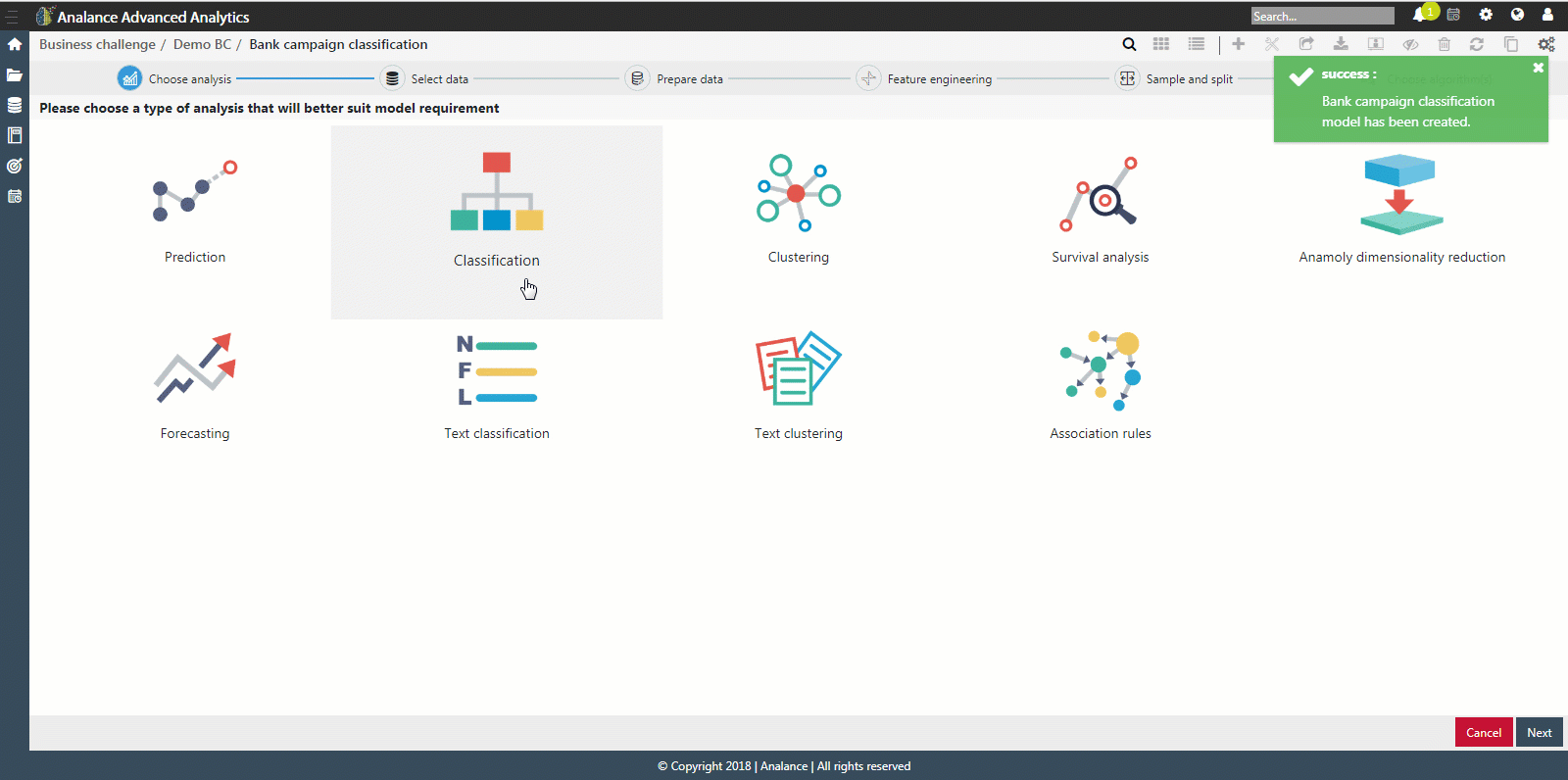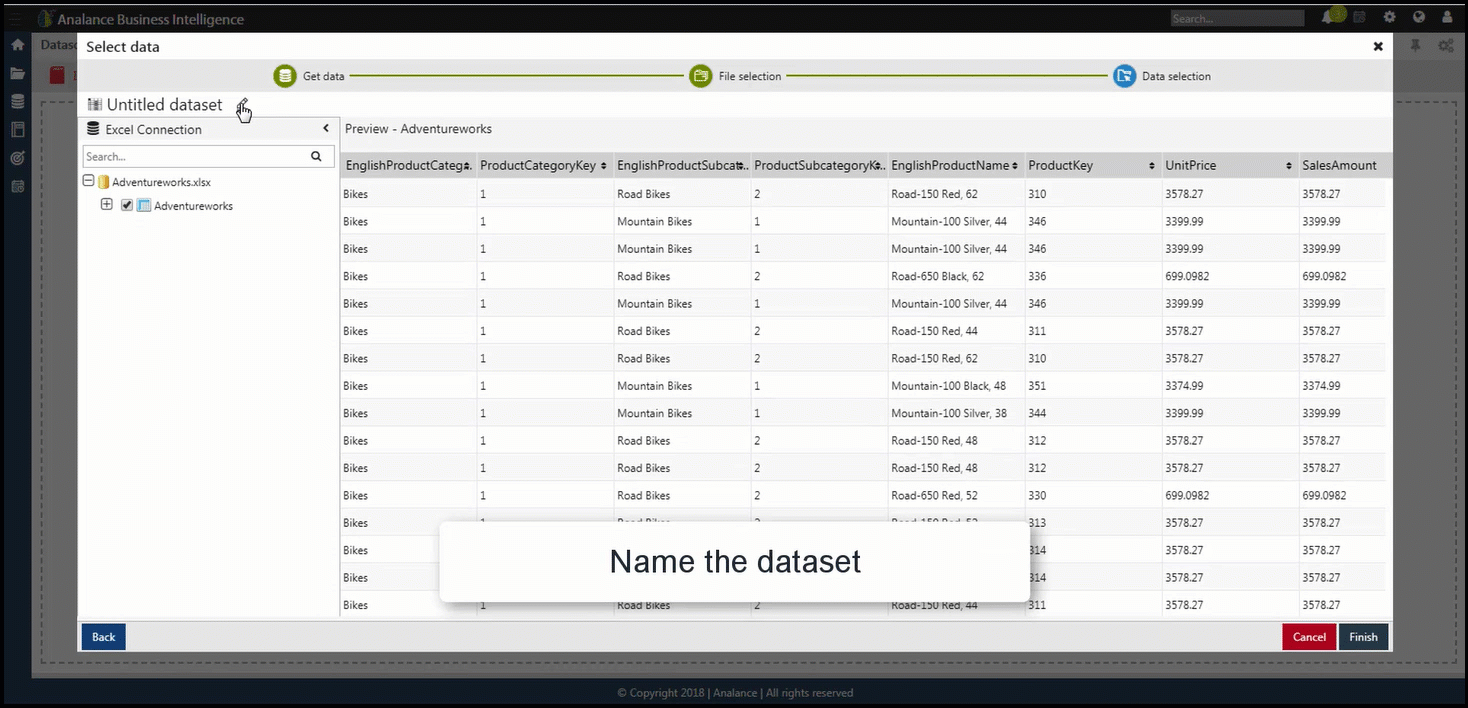 Spend Less Time Preparing Data and More on Analysis
Streamline your data analysis process by preparing and cleaning data easily and more efficiently, with just a few clicks. With Analance, jump right into your data analysis and get creative.
Use our Pre-Built Algorithms or Build your Own
Our machine learning modules can be used with a simple point and click. We integrate seamlessly with R and Python zero-coding machine learning algorithms so users can jump start their analysis. But if you prefer to code, the platform extends to let you build your own algorithms.
Explore Data on Your Own
Easily explore your data and jump right into analysis to validate a hypothesis without having to wait for someone more technical to help you get there. Make smarter, more timely decisions on your own.
Multiple Modules to Meet Your Business Needs
WHAT OUR CLIENTS ARE SAYING
"Why didn't we do this sooner!"

"Analance helped us reduce the number of custom reports. Now, users have direct access to the information they need and can analyze it right from an interactive dashboard. Generating and distributing reports is no longer a daunting task. This allows us to focus on only actionable information."

Read the IDC Case Study for The Pain Centre of Arizona >
"Helped us win our customers back!"

"We were concerned with the rate at which our customers were churning. Our data was dispersed across various systems, and there was no easy way to consolidate the data for a better, more accurate picture. With Analance and the support team, we consolidated massive data sets and easily explored the data to find pertaining issues to rectify. We prevented customers from churning and won customers back. Working with Ducen and the Analance team has been productive and assuring."
"More productive than before!"

"We have been a lot more productive than before. We saved over 20 hours per week by eliminating report writing."
"The insights delivered were phenomenal!"

We worked closely with the Analance team and created customer views that gave us better visibility of our customers and their behavior. It really helped us increase our customer lifetime value and enhance our customer experience.
"Analance guides our decisions!"

Analance is deeply integrated into our organization and it has always played a big role in guiding our assumptions, strategies and decisions. We heavily rely on it and that goes to say, the Analance team has been fully supportive from day one to ensure we never hit a road block.
"We are prepared for every change!"

We have many end users logging in and out of Analance every day. From what I have seen, for any changes, we do not submit a ticket. Most of the time, we find a solution. The Analance team is always prepared with some kind of documentation or has a quick solution and always ready to help.
"Data is being used by everyone, every day!"

Internally, we arrive at confident decisions faster allowing us to foresee risks and take preventative measures to eliminate them. Cross-departmental use of data has also increased. Users are collaborating on the platform and engaging in knowledge and insight sharing on a day-to-day basis.
Get a live demo to see Analance in action.